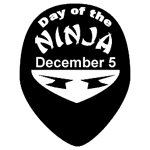 This being a non-denominational blog, I support both pirates and ninjas. As result, I just received the following email:
The ninja from Ask a Ninja is coordinating this year's December 5 events with me. Already it's shaping up to be bigger and better than ever before.

We have a brand new domain name — www.dayoftheninja.com

And we have a brand new wiki to coordinate events. PLEASE TAKE A MOMENT to log into this website and add your event details. The more info we get up the better it will be.
....
I have already added some information about events that I knew about, but if you can add more it'll be great. If you can't figure out the wiki, please email me with the following info if you can:

Event type (meeting, pirate protest, costume party)

Event hours (Decembrber 5, but when? What time?)

Location (country, state/province/city, address if appropriate)

Contact info (website, email, some way to coordinate with other people)

Number of people involved

Do whatever you can to get attention from the press (as long as it's legal). Call your local radio or television station and let them know what's going on. This year we can cement this holiday in its rightful place beside Talk Like a Pirate Day.
Personally, I think the ninja and the pirate can live together and harmony. And the
Ask A Ninja
ninja is funny as hell. Especially his
answer
to Question Nine: Ninja Love.
If ninjas can be accused of anything, it's loving too much.
This upcoming Tuesday is this year's Day of the Ninja.